Permalink
| July 14th, 2006
Deprecated
: preg_replace(): The /e modifier is deprecated, use preg_replace_callback instead in
/home/pxl/pixelbomb.com/blog/wp-content/plugins/wp-gallery2/g2embed.php
on line
457
Deprecated
: preg_replace(): The /e modifier is deprecated, use preg_replace_callback instead in
/home/pxl/pixelbomb.com/blog/wp-content/plugins/wp-gallery2/g2embed.php
on line
468
Deprecated
: preg_replace(): The /e modifier is deprecated, use preg_replace_callback instead in
/home/pxl/pixelbomb.com/blog/wp-includes/functions-formatting.php
on line
76
Strict Standards
: call_user_func_array() expects parameter 1 to be a valid callback, non-static method UltimateTagWarriorActions::ultimate_the_content_filter() should not be called statically in
/home/pxl/pixelbomb.com/blog/wp-includes/functions.php
on line
927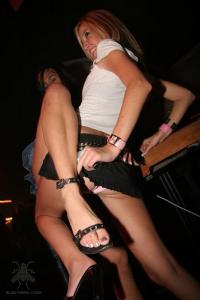 Police in Suffolk, England are hoping their tongue-in-cheek reminder to women gets the message across. In their premier issue of Safe! magazine Suffolk Police have warned women that, if you've got it don't flaunt it.
If you fall over or pass out, remember your skirt or dress may ride up. You could show off more than you intended - for all our sakes, please make sure you're wearing nice pants and that you've recently had a wax.
Accompanying the caption are a pictures of a scantily clad women slumped over on the ground — presumably showing more than they intended. With most of the world writing about the magazine, which will be distributed for free in pubs, clubs, hairdressers, schools and colleges across the UK, it's safe to say that they have at least succeeded in getting their message out there.