Permalink
| May 30th, 2006
Deprecated
: preg_replace(): The /e modifier is deprecated, use preg_replace_callback instead in
/home/pxl/pixelbomb.com/blog/wp-content/plugins/wp-gallery2/g2embed.php
on line
457
Deprecated
: preg_replace(): The /e modifier is deprecated, use preg_replace_callback instead in
/home/pxl/pixelbomb.com/blog/wp-content/plugins/wp-gallery2/g2embed.php
on line
468
Deprecated
: preg_replace(): The /e modifier is deprecated, use preg_replace_callback instead in
/home/pxl/pixelbomb.com/blog/wp-includes/functions-formatting.php
on line
76
Strict Standards
: call_user_func_array() expects parameter 1 to be a valid callback, non-static method UltimateTagWarriorActions::ultimate_the_content_filter() should not be called statically in
/home/pxl/pixelbomb.com/blog/wp-includes/functions.php
on line
927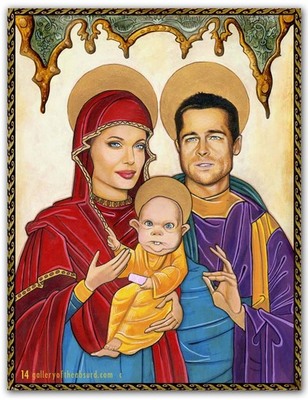 Babies are popping out left and right. Over the long weekend Gwen Stefani gave birth to a baby boy on Friday, while Angelina Jolie gave birth to a baby girl on Saturday.
Gwen and Gavin named their new son Kingston James McGregor Rossdale, in an obvious tribute to Kingston, Jamaica (or Bob Marley), James Dean/Brown, and Ewan McGregor. Could that poor child have any more names?!
Prior to Angelina giving birth, rumors circled that Namibian governor Samuel Nuuyoma was asked to name their child, but those turned out to be just that — rumors. Angelina and Brad chose the name Shiloh Nouvel. Shiloh is Hebrew for mesiah or peaceful one, and Nouvel is French for new.
Negotiations are presumably underway between Gwen, Gavin, Angelina and Brad for an arranged marriage of their new offspring children creating a superpower the likes of which Hollywood has never seen. Tom Cruise obviously feels left out.