Permalink
| May 19th, 2006
Deprecated
: preg_replace(): The /e modifier is deprecated, use preg_replace_callback instead in
/home/pxl/pixelbomb.com/blog/wp-content/plugins/wp-gallery2/g2embed.php
on line
457
Deprecated
: preg_replace(): The /e modifier is deprecated, use preg_replace_callback instead in
/home/pxl/pixelbomb.com/blog/wp-content/plugins/wp-gallery2/g2embed.php
on line
468
Deprecated
: preg_replace(): The /e modifier is deprecated, use preg_replace_callback instead in
/home/pxl/pixelbomb.com/blog/wp-includes/functions-formatting.php
on line
76
Strict Standards
: call_user_func_array() expects parameter 1 to be a valid callback, non-static method UltimateTagWarriorActions::ultimate_the_content_filter() should not be called statically in
/home/pxl/pixelbomb.com/blog/wp-includes/functions.php
on line
927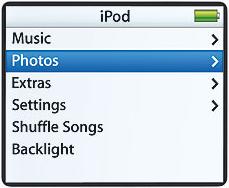 On Monday Creative Technology sued Apple claiming patent infringement on the company's Zen Patent which covers menu navigation of media in a portable player. Apple, in an "oh yeah, take that" manner, turned around and sued Creative on the very same day.
Apple claims Creative Labs, the U.S. division of Creative Technology, infringes four patents in its hand-held digital players. The suit was filed in a Wisconsin District Court on May 15, the same day Creative filed a lawsuit and a trade complaint against Apple.

"Creative proactively held discussions with Apple in our efforts to explore amicable solutions," Phil O'Shaughnessy, a spokesman for Creative, said. "At no time during these discussions or at any other time did Apple mention to us the patents it raised in its lawsuit."
Is it just me, or does it not sound utterly absurd that you can patent a menu navigation scheme? The patent wars of the 21st century are getting way out of control.