Permalink
| May 15th, 2006
Deprecated
: preg_replace(): The /e modifier is deprecated, use preg_replace_callback instead in
/home/pxl/pixelbomb.com/blog/wp-content/plugins/wp-gallery2/g2embed.php
on line
457
Deprecated
: preg_replace(): The /e modifier is deprecated, use preg_replace_callback instead in
/home/pxl/pixelbomb.com/blog/wp-content/plugins/wp-gallery2/g2embed.php
on line
468
Deprecated
: preg_replace(): The /e modifier is deprecated, use preg_replace_callback instead in
/home/pxl/pixelbomb.com/blog/wp-includes/functions-formatting.php
on line
76
Strict Standards
: call_user_func_array() expects parameter 1 to be a valid callback, non-static method UltimateTagWarriorActions::ultimate_the_content_filter() should not be called statically in
/home/pxl/pixelbomb.com/blog/wp-includes/functions.php
on line
927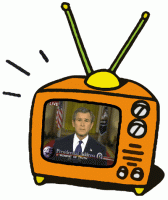 Only two of the Big Four broadcast networks have committed to showing President Bush's address to the nation tonight regarding immigration. ABC and CBS have not yet verified their coverage. Regardless, all networks have voiced their displeasure over the timing of the address, saying that it cuts into May Sweeps.
Some of the networks were said to be annoyed that the White House had timed the Oval Office address during the May Sweeps, that critical time in the broadcast year when the networks and their affiliates fight for ratings. At least one show, Fox's "Prison Break," was scheduled to have its season finale at 8 p.m. Monday.

…

"It's always tough in sweeps," said one executive, who explained that the networks usually differentiate between a White House request for air time and a notification that a speech would occur if the networks were interested in televising.

…

In May 2004, the White House had requested coverage of the president's speech at the Army War College in Carlisle, Pa., on what was the last Monday of the May sweeps. NBC, Fox and ABC instead went on its normally scheduled programming, including NBC's "Fear Factor," Fox's "The Swan" finale and ABC's "A Beautiful Mind" premiere.
ABC's Oprah Winfrey's Legend Ball and CBS' King of Queens is currently set to air in the 8:00p time slot; making Oprah, and King of Queens stars Kevin James and Leah Remini more important popular than the president. Nice.
[via Washington Post]