Permalink
| April 14th, 2006
Deprecated
: preg_replace(): The /e modifier is deprecated, use preg_replace_callback instead in
/home/pxl/pixelbomb.com/blog/wp-content/plugins/wp-gallery2/g2embed.php
on line
457
Deprecated
: preg_replace(): The /e modifier is deprecated, use preg_replace_callback instead in
/home/pxl/pixelbomb.com/blog/wp-content/plugins/wp-gallery2/g2embed.php
on line
468
Deprecated
: preg_replace(): The /e modifier is deprecated, use preg_replace_callback instead in
/home/pxl/pixelbomb.com/blog/wp-includes/functions-formatting.php
on line
76
Strict Standards
: call_user_func_array() expects parameter 1 to be a valid callback, non-static method UltimateTagWarriorActions::ultimate_the_content_filter() should not be called statically in
/home/pxl/pixelbomb.com/blog/wp-includes/functions.php
on line
927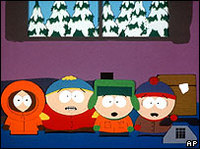 After winning the prestigous Peabody Award, South Park has decided to turn on its network for not allowing them to show an image of the Islamic prophet Muhammad.
In an elaborately constructed two-part episode of their Peabody Award-winning cartoon, "South Park" creators Matt Stone and Trey Parker intended to comment on the controversy created by a Danish newspaper's publishing of caricatures of Muhammad. Muslims consider any physical representation of their prophet to be blasphemous.

…

Parker and Stone were angered when told by Comedy Central several weeks ago that they could not run an image of Muhammad, according to a person close to the show who didn't want to be identified because of the issue's sensitivity.
During the presentation of the Peabody Award last week, Awards director Horace Newcomb said of the show, Through that process of offending it reminds us of the need for being tolerant. How quickly that was forgotten.
[via AP]