Permalink
| April 14th, 2006
Deprecated
: preg_replace(): The /e modifier is deprecated, use preg_replace_callback instead in
/home/pxl/pixelbomb.com/blog/wp-content/plugins/wp-gallery2/g2embed.php
on line
457
Deprecated
: preg_replace(): The /e modifier is deprecated, use preg_replace_callback instead in
/home/pxl/pixelbomb.com/blog/wp-content/plugins/wp-gallery2/g2embed.php
on line
468
Deprecated
: preg_replace(): The /e modifier is deprecated, use preg_replace_callback instead in
/home/pxl/pixelbomb.com/blog/wp-includes/functions-formatting.php
on line
76
Strict Standards
: call_user_func_array() expects parameter 1 to be a valid callback, non-static method UltimateTagWarriorActions::ultimate_the_content_filter() should not be called statically in
/home/pxl/pixelbomb.com/blog/wp-includes/functions.php
on line
927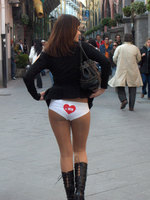 The notion of assvertising has actually been around for quite some time now, with many attributing the birth of this concept to New York based ad agency, NightAgency. Assvertising received mainstream recognition last December when Kodak decided to implement the technique. They hired women to walk around in short skirts and occassionaly drop items — only to immediately bend over and pick them up, exposing their white panties with Kodak written in bright bold red letters across their bottom.
Well, it would appear as though assvertising has now hit Italy.
The ass-vertising arrives finally in Italy too.

It was MTN Company, a brave and innovative integrated communication agency of South Italy, to realize about the great potentials of the bottom as advertising media.

The agency has taken advantage of the ass of fascinating models to promote itself and its creative minds, and to launch the new company website (www.mtncompany.it).

Models have been walking around italian towns, attracting people's gaze not only by their body appearance. In fact girls have rising their skirt more than once, showing their bottom and white panties with MTN logo.
Due to assvertising, MTN claims that traffic to their website has multiplied over 4 times in the last week.
Advertising 101, sex sells.
Read: AdRants: Hired Booty
Read: Spunker: Kodak Assvertising
Read: AdRants: Kodak Assvertising
Read: Ad-Rag: Assvertising in Italy
Read: AdverBox: Assvertising MTN