Permalink
| March 20th, 2006
Deprecated
: preg_replace(): The /e modifier is deprecated, use preg_replace_callback instead in
/home/pxl/pixelbomb.com/blog/wp-content/plugins/wp-gallery2/g2embed.php
on line
457
Deprecated
: preg_replace(): The /e modifier is deprecated, use preg_replace_callback instead in
/home/pxl/pixelbomb.com/blog/wp-content/plugins/wp-gallery2/g2embed.php
on line
468
Deprecated
: preg_replace(): The /e modifier is deprecated, use preg_replace_callback instead in
/home/pxl/pixelbomb.com/blog/wp-includes/functions-formatting.php
on line
76
Strict Standards
: call_user_func_array() expects parameter 1 to be a valid callback, non-static method UltimateTagWarriorActions::ultimate_the_content_filter() should not be called statically in
/home/pxl/pixelbomb.com/blog/wp-includes/functions.php
on line
927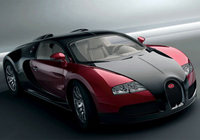 What kind of cars to the über-rich drive? Forbes gives us the answer with their list of the 10 most expensive cars in the world.
These kinds of cars make Ferraris and Aston Martins look like relative bargains; despite their fame, they are much cheaper than the cars on our list. Of the 10 most expensive cars, only two are made by brands with household names — Porsche and Mercedes-Benz — although I guess it depends on what your household is like.

But the 10 most expensive cars aren't just rare. They are beautiful, but in daring, sometimes avant-garde ways that mainstream cars can't follow. Their top speeds set records. Their technology is pioneering, and attainable only by the wealthiest of car buyers — and that's a blessing even for the non-wealthy.
Topping the list at nearly $1.2 million is the forever beautiful and engineering phenomenon Bugatti Veyron.
#1 Bugatti Veyron ($1,192,057)
#2 Pagani Zonda Roadster ($667,321)
#3 SSC Ultimate Aero ($654,500)
#4 Leblanc Mirabeau ($645,084)
#5 Saleen S7 Twin Turbo ($555,000)
#6 Koenigsegg CCR ($545,568)
#7 Mercedes-Benz SLR McLaren ($452,750)
#8 Maybach 62 ($448,153)
#9 Porsche Carrera GT ($440,000)
#10 Maybach 57 S ($430,355)
[gallery: Top 10 most expensive cars]
[via Wired]