Permalink
| January 18th, 2006
Deprecated
: preg_replace(): The /e modifier is deprecated, use preg_replace_callback instead in
/home/pxl/pixelbomb.com/blog/wp-content/plugins/wp-gallery2/g2embed.php
on line
457
Deprecated
: preg_replace(): The /e modifier is deprecated, use preg_replace_callback instead in
/home/pxl/pixelbomb.com/blog/wp-content/plugins/wp-gallery2/g2embed.php
on line
468
Deprecated
: preg_replace(): The /e modifier is deprecated, use preg_replace_callback instead in
/home/pxl/pixelbomb.com/blog/wp-includes/functions-formatting.php
on line
76
Strict Standards
: call_user_func_array() expects parameter 1 to be a valid callback, non-static method UltimateTagWarriorActions::ultimate_the_content_filter() should not be called statically in
/home/pxl/pixelbomb.com/blog/wp-includes/functions.php
on line
927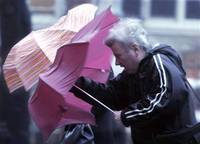 High winds gusting up to 68 MPH blasted through NY this morning reaking havoc commuters and residents. Debris littered the roads and railroad tracks, eighteen-wheelers were overturned, and pedestrians were blown down.
Pedestrians were knocked down on Manhattan streets, roads throughout the region were jammed and thousands of residents were without power. A high wind advisory remained in effect for the region until midday.

In the hours before daybreak, the air was calm and unseasonably muggy. Then gusts driven by an approaching cold front swept through, moving north along the coast. In southern New Jersey, the worst of the storm hit at 5 a.m., knocking out power to more than 25,000 homes. Further north, the peak came around 7:30 a.m., according to the National Weather Service, which reported gusts reaching 68 miles per hour in the Bronx, 64 m.p.h. in Mount Vernon, N.Y., and 53 m.p.h. in Fort Lee, N.J.