Permalink
| January 14th, 2006
Deprecated
: preg_replace(): The /e modifier is deprecated, use preg_replace_callback instead in
/home/pxl/pixelbomb.com/blog/wp-content/plugins/wp-gallery2/g2embed.php
on line
457
Deprecated
: preg_replace(): The /e modifier is deprecated, use preg_replace_callback instead in
/home/pxl/pixelbomb.com/blog/wp-content/plugins/wp-gallery2/g2embed.php
on line
468
Deprecated
: preg_replace(): The /e modifier is deprecated, use preg_replace_callback instead in
/home/pxl/pixelbomb.com/blog/wp-includes/functions-formatting.php
on line
76
Strict Standards
: call_user_func_array() expects parameter 1 to be a valid callback, non-static method UltimateTagWarriorActions::ultimate_the_content_filter() should not be called statically in
/home/pxl/pixelbomb.com/blog/wp-includes/functions.php
on line
927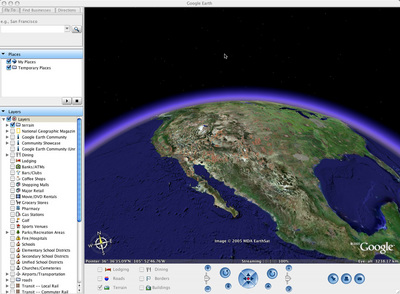 Google (finally) released a Mac friendly version of Google Earth.
[W]e have a brand new member of the family — Google Earth for Macintosh. We're happy to finally have some good news for the, ahem, vocal Mac enthusiasts we've been hearing from. Let's just say that we have gotten more than a few "requests" for a Mac version of Google Earth.

…

We heard you loud and clear. The Mac version runs on OS X 10.4 and up. Happy travels throughout Google Earth, whether you're on a Mac or a PC.
Visit: Google Earth
[via Google Blog]