Permalink
| December 21st, 2005
Deprecated
: preg_replace(): The /e modifier is deprecated, use preg_replace_callback instead in
/home/pxl/pixelbomb.com/blog/wp-content/plugins/wp-gallery2/g2embed.php
on line
457
Deprecated
: preg_replace(): The /e modifier is deprecated, use preg_replace_callback instead in
/home/pxl/pixelbomb.com/blog/wp-content/plugins/wp-gallery2/g2embed.php
on line
468
Deprecated
: preg_replace(): The /e modifier is deprecated, use preg_replace_callback instead in
/home/pxl/pixelbomb.com/blog/wp-includes/functions-formatting.php
on line
76
Strict Standards
: call_user_func_array() expects parameter 1 to be a valid callback, non-static method UltimateTagWarriorActions::ultimate_the_content_filter() should not be called statically in
/home/pxl/pixelbomb.com/blog/wp-includes/functions.php
on line
927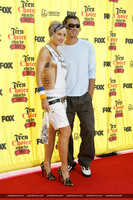 Gwen Stefani has announced that she's pregnant. Well, technically Gwen hasn't announced it so much as her mother and Gavin's father did … leave it to the grandparents.
The 36-year-old pop star and Gavin Rossdale, 38, were married three years ago. The baby is due in June, the magazine reported Tuesday.

"We are delighted," Us Weekly quotes Rossdale's father, Douglas, as saying. Stefani's mother, Patti, also reportedly confirmed the pregnancy to the magazine.
If it's a girl Gwen will have one more person to add to her harajuku posse.
[via AP]