Permalink
| December 16th, 2005
Deprecated
: preg_replace(): The /e modifier is deprecated, use preg_replace_callback instead in
/home/pxl/pixelbomb.com/blog/wp-content/plugins/wp-gallery2/g2embed.php
on line
457
Deprecated
: preg_replace(): The /e modifier is deprecated, use preg_replace_callback instead in
/home/pxl/pixelbomb.com/blog/wp-content/plugins/wp-gallery2/g2embed.php
on line
468
Deprecated
: preg_replace(): The /e modifier is deprecated, use preg_replace_callback instead in
/home/pxl/pixelbomb.com/blog/wp-includes/functions-formatting.php
on line
76
Strict Standards
: call_user_func_array() expects parameter 1 to be a valid callback, non-static method UltimateTagWarriorActions::ultimate_the_content_filter() should not be called statically in
/home/pxl/pixelbomb.com/blog/wp-includes/functions.php
on line
927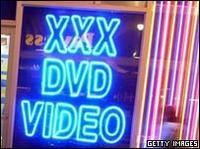 Italy has pushed through parliament a new law which imposes a whopping 25% tax on all hardcore porn.
The new tax is similar to one imposed in France and will apply to all hardcore pornography, including films, magazines and merchandise sold in sex shops.

Mr Tremonti says that, just like his French colleague, he is imposing what he calls an "ethical" tax.

The porn industry in Italy is estimated to be worth more than one billion euros a year.
[via The BBC]