Permalink
| September 27th, 2005
Deprecated
: preg_replace(): The /e modifier is deprecated, use preg_replace_callback instead in
/home/pxl/pixelbomb.com/blog/wp-content/plugins/wp-gallery2/g2embed.php
on line
457
Deprecated
: preg_replace(): The /e modifier is deprecated, use preg_replace_callback instead in
/home/pxl/pixelbomb.com/blog/wp-content/plugins/wp-gallery2/g2embed.php
on line
468
Deprecated
: preg_replace(): The /e modifier is deprecated, use preg_replace_callback instead in
/home/pxl/pixelbomb.com/blog/wp-includes/functions-formatting.php
on line
76
Strict Standards
: call_user_func_array() expects parameter 1 to be a valid callback, non-static method UltimateTagWarriorActions::ultimate_the_content_filter() should not be called statically in
/home/pxl/pixelbomb.com/blog/wp-includes/functions.php
on line
927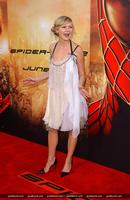 There has been a lot of speculation about which villains will be appearing in the upcoming movie, Spiderman 3. Everyone who has been following the Spiderman franchise knows that it's been a closely guarded secret of Sony and Marvel, but apparently someone forgot to tell Kirsten … and her rep.
"We have really great people though as the villains in this film, Thomas Haden Church and Topher Grace — Venom and Sandman," says Kirsten Dunst while promoting her film "Elizabethtown."

"Maybe I wasn't supposed to say that," she says, checking with her rep, who assures her the information has already been released.
Nope, it's never been revealed, until Kirsten came along. In one airheaded maneuver she was able to effectively destroy Sony and Marvel's plan to virally promote Spiderman 3 via hype and speculation. Brilliant. So it's back to the drawing boards … wait, what's that? Mary-Jane reveals to the world that Peter Parker is actually Spiderman?!
[via Zap2it]