Permalink
| September 19th, 2005
Deprecated
: preg_replace(): The /e modifier is deprecated, use preg_replace_callback instead in
/home/pxl/pixelbomb.com/blog/wp-content/plugins/wp-gallery2/g2embed.php
on line
457
Deprecated
: preg_replace(): The /e modifier is deprecated, use preg_replace_callback instead in
/home/pxl/pixelbomb.com/blog/wp-content/plugins/wp-gallery2/g2embed.php
on line
468
Deprecated
: preg_replace(): The /e modifier is deprecated, use preg_replace_callback instead in
/home/pxl/pixelbomb.com/blog/wp-includes/functions-formatting.php
on line
76
Strict Standards
: call_user_func_array() expects parameter 1 to be a valid callback, non-static method UltimateTagWarriorActions::ultimate_the_content_filter() should not be called statically in
/home/pxl/pixelbomb.com/blog/wp-includes/functions.php
on line
927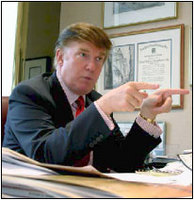 Obviously inspired by the recent success of Hilary Duff Mobile The Donald has announced his own plans to enter the cell phone arena.
According to the New York Post, real estate and casino mogul Trump, who is already star of the hit reality series "The Apprentice," is about to announce a deal with Warner Music Group to launch Trump Mobile. Products will include ringtones, video ringtones and Trump wallpaper for cell phone screens.

The paper reports that customers will be able to have Trump's voice as their ringtone, with the Donald saying, "Why not answer your phone, you could be missing out on some really big business" and "You're getting a phone call and, believe me, it better be important. I have no time for small talk and neither do you."
And what exactly did Donald Trump have to say about his new venture? "When Donald Trump's voice is coming out of your cell phone, everyone around you will know you mean business." Do you smell what The Donald is cooking?
[via textually.org and CNN]