Permalink
| August 15th, 2005
Deprecated
: preg_replace(): The /e modifier is deprecated, use preg_replace_callback instead in
/home/pxl/pixelbomb.com/blog/wp-content/plugins/wp-gallery2/g2embed.php
on line
457
Deprecated
: preg_replace(): The /e modifier is deprecated, use preg_replace_callback instead in
/home/pxl/pixelbomb.com/blog/wp-content/plugins/wp-gallery2/g2embed.php
on line
468
Deprecated
: preg_replace(): The /e modifier is deprecated, use preg_replace_callback instead in
/home/pxl/pixelbomb.com/blog/wp-includes/functions-formatting.php
on line
76
Strict Standards
: call_user_func_array() expects parameter 1 to be a valid callback, non-static method UltimateTagWarriorActions::ultimate_the_content_filter() should not be called statically in
/home/pxl/pixelbomb.com/blog/wp-includes/functions.php
on line
927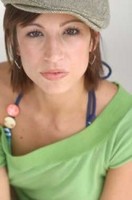 Say hello to Mandy Taylor Coulton, the 26 year-old dancer from Los Angeles, California, and the body behind the hugely successful iPod ad campaign. With one of the most recognizable silhouettes in the world, she says that she can barely even afford an iPod.
She was paid a flat fee of $1,500 for the shoot - a tiny fraction of the billions Apple has reaped from the sale of its sleek portable player. But Coulton … says it still wasn't enough to buy one of the must-have gadgets.

"At the time, $1,500 seemed a lot of money - but now my picture is absolutely everywhere. But I'm not bitter or anything," the stunning brunette said.

"I would like one - but $400 for an iPod is too much for me at the moment. I can't justify spending that much money when I have day-to-day stuff to pay for, like the car and rent."
Given only 20 seconds to strike a pose in front of Apple execs, she was among hundreds to audition and one of only ten who were chosen.

[via NY Post]