Permalink
| May 23rd, 2005
Deprecated
: preg_replace(): The /e modifier is deprecated, use preg_replace_callback instead in
/home/pxl/pixelbomb.com/blog/wp-content/plugins/wp-gallery2/g2embed.php
on line
457
Deprecated
: preg_replace(): The /e modifier is deprecated, use preg_replace_callback instead in
/home/pxl/pixelbomb.com/blog/wp-content/plugins/wp-gallery2/g2embed.php
on line
468
Deprecated
: preg_replace(): The /e modifier is deprecated, use preg_replace_callback instead in
/home/pxl/pixelbomb.com/blog/wp-includes/functions-formatting.php
on line
76
Strict Standards
: call_user_func_array() expects parameter 1 to be a valid callback, non-static method UltimateTagWarriorActions::ultimate_the_content_filter() should not be called statically in
/home/pxl/pixelbomb.com/blog/wp-includes/functions.php
on line
927
I know someone, somewhere will love to hear this bit of news … the Spice Girls Reunite!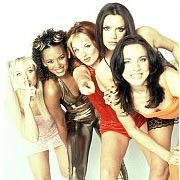 Spice Girls Reunite
News Story 2005 05 20

You thought you'd never see them again, but you were wrong. Now it is decided that the Spice Girls are to make a comeback. The girls are going to head out on a world tour with all the original members, including Ginger Spice, Geri Halliwell.

Scary Spice, Melanie Brown, gave the news to GMTV last night. In addition to the tour, Spice Girls are to release a 'Best of' album. The tour is also said to ensure the girls a large paycheck.
[via MTVe]